• Embroidery • Folk Art • Frida Kahlo • Shrine Boxes
Now that we are into the new year, I am looking forward to some exciting projects and ventures. First and foremost, I am working on some big, dramatic pieces for my first gallery show this spring!  I have also started making a series of smaller shrine boxes that are for sale before the show. Check out what I've been up to! 
---
• Embroidery • Folk Art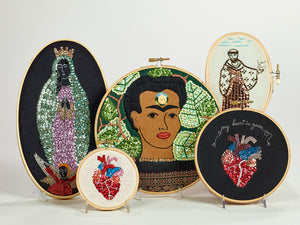 I never considered myself to be a visual artist when I was young. 
But I had an aunt who would always give me craft kits as presents, and I eventually started using them. I was especially fascinated by all forms of needlework. Everything I now make started with the basic cross-stitch kits available during my childhood--most of which were really boring designs--but I've come a long way since.